Sustainable enterprise, sustainable community and growth
In our rapidly changing world, any successful business must remain aware of the needs of both the community and the planet. Bio-Fungi Ltd. therefore places particular emphasis on social responsibility, focusing on four pillars: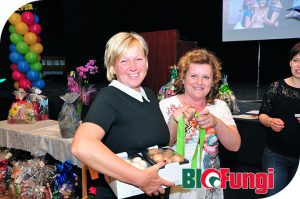 1. Healthy diet
In the region where we are based (Áporka, Ócsa), we contribute to the health of local communities by offering fresh mushrooms to public institutions, events, schools, kindergartens and old people's clubs.
2. Sports and activities
We support competitions and other sport events with our products.
3. Charity
Our company supports the "Bátor Tábor" (Courage Camp) for seriously ill children, as well as the work of Hungarian charities, the Hungarian Food Bank Association and other socially beneficial initiatives.
4. Environmental protection
We use modern, environmentally friendly technologies in our facilities: our mushrooms are cultivated without the use of chemicals and we use water as sparingly as possible.